What Are The Options For Buying A Pool?
In other words, if I want a pool, do I have to go through a full-service pool builder or can I buy a pool kit online and save money?
A full-service pool builder will sell you the pool itself, and then install the pool using their tradespeople, under their pool builder's licence. This is the traditional "one stop shop" where the pool builder will manage the entire process for you. This includes council approvals, installation, pool fencing, landscaping, paving and certification on completion. This is discussed further in the next section.
So, what is a "pool kit"? Fibreglass pools and vinyl liners pools are manufactured in a factory and then delivered to your house for installation. Vinyl liner pools will arrive as individual panels to be assembled onsite. A fibreglass pool shell will arrive as a single shell ready to be lifted into an excavated hole. Both vinyl liner and fibreglass pools need water sanitisation and filtration equipment including a pump, filter and chlorinator. When you buy a pool kit, it includes the pool, the filtration equipment, and engineering drawings for council approval. This comes as a single price bundle (like a mobile phone and home internet bundle). Usually, the equipment and pool arrive as a single delivery to reduce the challenges of managing multiple deliveries from different suppliers (that's what we do to make it easier for you).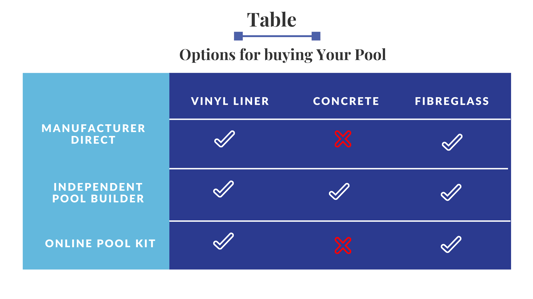 Vinyl Liner
While not as popular as they once were, vinyl liner pools are available through pool builders specialising in their installation throughout Australia. Alternatively, they can be bought in kit form online. The pre-made wall panels, vinyl liner, parts and equipment are delivered to your home ready for onsite installation.
Concrete
Most concrete pools are designed, engineered and built onsite by licenced pool builders who manage the entire process including rebar and concrete delivery, form workers, plasterers, plumbers, electricians, tilers and certification on completion.
As concrete pools are always customed designed and built, using a combination of raw materials delivered to site, they cannot be bought online as kit.
Fibreglass
The entire fibreglass pool is pre-made as a single piece shell in carefully controlled factory conditions. Manufacturers will often have a display centre where you can view their range of pools or online through their virtual showroom. Independent pool builders, (who are the vast majority in Australia) will offer pool shells they have bought from a manufacturer as part of their range and will generally only have a virtual showroom. Whether you buy directly from a manufacturer or through an independent pool builder, it is standard practice the pool is bought as a package including filtration equipment and basic installation as a minimum.
A fibreglass pool can also be bought online as a pool kit. You choose your preferred pool design from an existing range of pools and equipment, through an online virtual showroom. When you are ready for installation, the pool kit (fibreglass pool shell and filtration equipment) is delivered to the kerbside of your house. The cost of the shell and equipment is often less than what is charged by a manufacturer or pool builder as an online pool kit business has low operating costs and doesn't maintain expensive display centres.
Buying a pool kit will save you money without sacrificing quality. Our Australian made fibreglass pool shells come with a lifetime structural warranty (the longest available in the market) backed by 40 years of manufacturing experience. The pool kit filtration equipment is also proudly Australian made and is backed the longest pool equipment warranties in Australia.
Related Blogs
All pools, DIY pools included, need to be cleaned. If a robot cleaner went nine rounds with a suction cleaner, who would win the title? Which does a better job of cleaning your pool in the least....
About The Author
My wife and I grew up playing in swimming pools. Our daughters learnt to swim in our backyard fibreglass swimming pool. There is nothing quite like hearing kids splashing about and giggling. As pools do, our pool became a social magnet for friends, family and neighbours which we loved. Helping customers to have their own pool and saving customers thousands on their pool and equipment is the best job in the world.