How long does it take to install a fibreglass pool?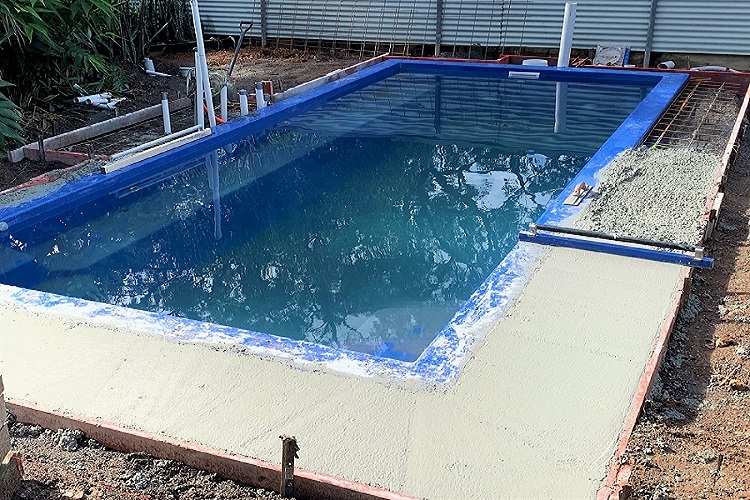 Installing a fibreglass DIY pool can be completed in as little as 5 days however it is usually longer than this. Fibreglass DIY pool installation is always faster than concrete pool installation and it is not as difficult a process as you might think.
Depending on where you live, local council approvals can take between 3 and 10 weeks whether it is a fibreglass or concrete pool. All pools need a Building Permit before work can commence. You can submit the application yourself or engage a licensed Building Certifier. The building certifier will assess your application, ensure compliance on behalf of the council and submit your application for you. As the council is not having to assess the application, you can significantly reduce the number of weeks required to receive your Building Permit.
Manufacturing time for your fibreglass DIY pool shell is usually around 2 weeks during colder months and 6 weeks in warmer months when demand is higher. With good planning, you can obtain council approval for your DIY pool while your fibreglass pool shell is being manufactured. As fibreglass pool shells are made in climate-controlled factories, you won't experience manufacturing delays due to rain and wind.
Basic pool installation can completed in as little as 5 days. To learn more about "What Is Included With DIY Pool Installation?" and the stages of installation, click on the link. As a rule of thumb, allow at least two weeks for your fibreglass pool installation. Pool fences, full paving and landscaping can take additional 3 days to 3 weeks depending on what you are getting done. If you want to make sure your pool is ready for the first day of summer, arrange your pool installation over winter and spring. Weather does not impact fibreglass pool installation as much as a concrete pool so winter is a great time to install your pool. To learn about the time frames for installing concrete, vinyl liner and fibreglass pools in more detail, click on this link to our What Is The Easiest Type Of Pool To Install? post.
These time frames assume a level back yard, good soil conditions and 3m side of house access. If your site access is narrower than 3m, installing your pool is possible. However smaller excavation equipment is required which will add to the time to excavate, remove soil and bring in the back fill material. If you need retaining walls, rocks dugout, trees cut down etc, get a quote so you understand the additional time these steps will take. As with any project, work out the time frame and then add a week for the unforeseen things that tend to pop up!
If you would like to learn more about the differences between concrete, vinyl liner and fibreglass pools, you can download our very popular and free An Unbiased Comparison of Vinyl Liner vs Concrete vs Fibreglass Pools e-Guide here.
Like our blogs or have a comment to make? We'd love you to hear your thoughts. Leave a comment below or click on the social media below icons to share.
About The Author
My wife and I grew up playing in swimming pools. Our daughters learnt to swim in our backyard fibreglass swimming pool. There is nothing quite like hearing kids splashing about and giggling. As pools do, our pool became a social magnet for friends, family and neighbours which we loved. Helping customers to have their own pool and saving customers thousands on their pool and equipment is the best job in the world.
Related Blogs
A pool light for your DIY pool is essential. The right placement of your pool light/s also makes a big difference to how your pool will look at night and how many lights you will need. Pool lights....