Three Questions Most Buyers Have About DIY Fibreglass Pools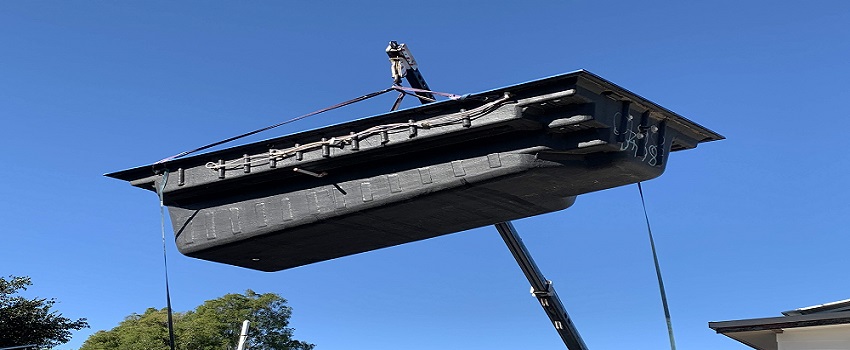 When it comes to DIY pools, we are often asked similar questions from pool buyers just like you. Fair enough too. Here are three questions that we hear lots of times about fibreglass pool shells and DIY pools.
Can DIY fibreglass pools be installed on sloping sites?
Yes. Today's fibreglass pool shells are incredibly strong and can be installed on sloping sites. To make sure your DIY pool is level, you may need retaining walls. You can spend anywhere between $2,000 and $20,000+ on retaining walls depending on how much retaining is needed. If the ground where your fibreglass swimming pool is going has a slope, or your land is significantly (300mm+) higher or lower than your neighbours, arrange a retaining wall quote early in your process so you know what you cost you are up for.
While we are talking about neighbours, check with your local council or private certifier about how close to your boundary fencing you are permitted to install your pool. Also check how close to your house you can install your pool. You might hear of a rule of thumb of "the deep end depth of your pool is the distance you need to be from your house and boundary fence" which is often true. It is also equally as often not true depending on your council. We have customers in every State and Territory in Australia (except Tassie!) and know first hand that every council has their own interpretation of what they will and won't approve when it comes to distances from fences and houses.
Can DIY fibreglass pool shells be lifted over two story houses?
Yes. We've yet to find a backyard that a DIY fibreglass pool shell cannot be crane lifted into. It is a question of how big a crane will you need to be able to reach over your house from the road and into your backyard.
What determines the size of the crane you need?
How close can the crane get to your house to set up? Can your driveway/front yard take the weight of the crane without damaging it or does the crane have to set up on your street?
What overhead obstacles are in the way? Things like trees, powerlines, street lights etc the crane will need to reach over
What is the weight of your pool shell? A rough rule of thumb for a pool that has been properly made is allow for 100kg of weight per 1m of pool length. i.e a 7m long pool will weigh approximately 700kg.
Where is the shell going? Does the crane need to lift your pool shell over the house and into the excavated hole or onto unexcavated ground
Crane hire usually costs between $300 (for a Franna crane) and up to $1,200 (50 tonne crane) on average.
If your street is busy, you may need the services of a traffic management company which can cost several thousand dollars. Most crane hire companies can give you a good estimate based off Google Maps and the information above as a starting point.
Can DIY fibreglass pools be installed with a really narrow side of house access?
Yes. Whether concrete or fibreglass, a decent amount of excavated soil will need to be removed. If your side access is a very narrow .5m, your earth workers will need smaller equipment which adds to excavation and dirt removal time. As they say, time is money. As a rule of thumb, anything less than 3m wide access , the cost will start to increase. When you are talking to trades to help with your installation, make sure you let them know how wide your side access is so there are no surprise costs when they arrive to start the job.
As a side note, make sure you allow for removal of the excavated soil. The further you are from a dumping point, the higher the cost will be for soil removal. Have a look at websites like http://www.needdirt.com.au/ and http://www.fillwanted.com.au/ to see if you might be able to have your fill collected at no cost or find a building site close by that is looking for fill (your soil) to cut down dumping costs.
Related Blogs
Removing pool stains can be tricky, particularly metal stains. All is well with the world and then one day you notice a stain on the bottom of your pool that wasn't there yesterday. If your automatic....
About The Author
My wife and I grew up playing in swimming pools. Our daughters learnt to swim in our backyard fibreglass swimming pool. There is nothing quite like hearing kids splashing about and giggling. As pools do, our pool became a social magnet for friends, family and neighbours which we loved. Helping customers to have their own pool and saving customers thousands on their pool and equipment is the best job in the world.